Hitchhikers and Appetizers Podcast, Hitchhikers and Appetizers Season 5, Uncategorized
HA! S5E8…
Bucket Is A Gooood Guest
Bucket is from the planet Park where they enjoy chasing squirrels, sticking their heads out the window when they go for drives, and looking for the perfect stick to carry around in their mouths.
This Episode's Guest Improviser
Katy Schutte as Bucket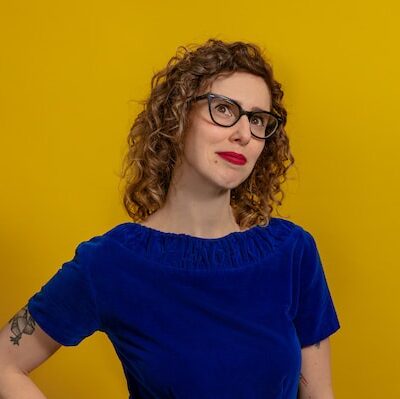 Katy Schutte has performed and taught improvisation in twenty-something countries across five continents. She is a Head Teacher and Curriculum Writer for Hoopla, the UK's biggest improv school. Katy authored The Improviser's Way: A Longform Workbook, published by Nick Hern Books. She has been one of The Maydays since 2004, is half of sci-fi improv duo Project2 and performs with Yes Queens, Track 96 and Hell Yeah! among others. She is an artist in residence for The Arctic Circle Project in 2022.
A Funny Women finalist and both nominee and winner of the Brighton Festival Fringe Best Comedy Show award, Katy also stars in BAFTA winning online educational series History Bombs.
Katy performs with Knightmare Live and makes her own work including Schutte the Unromantic and acclaimed semi-immersive folk horror play Let's Summon Demons. She is a contributing writer for Cards Against Humanity and actor/writer on web series Sideliners. She was resident singer/songwriter on Sean and Robot's Comedy Circuit podcast, co-writer/dramaturg on AR immersive game Beth's Legacy in association with StoryFutures and CreativeXR and writer/improv director/performer on The Galaxicle Implosions, a multi-platform live virtual reality show with Fandco and Flipside.
Katy is also a commercial and voiceover actor.
Producers: Mike Gorgone & Bran Peacock
Post-Production Coordination: Mike Gorgone & Bran Peacock
Editor: Mike Gorgone
HA! Logo: Mike Gorgone
Music: "Ben Sound Actionable" and "Ben Sound Sexy" from bensound.com
Sound effects:
Power Up 1 and TOS Communications Static 1 – from trekcore.org
Computer Heart 2 – from freesound.org
Restaurant background and Jazz background – unknown
---