Hitchhikers and Appetizers Podcast, Hitchhikers and Appetizers Season 4
HA! S4E1…
In The Orbit Of Muon And Eric
Muon and Eric are two balls of energy in an infinitely long term orbital relationship. If the word "Belgium" offends you (as it should) this episode will burn up all of your hearing holes.
This Episode's Guest Improvisers
Susan Messing as Eric
Rachael Mason as Muon
Susan Messing, a NJ native and graduate of Northwestern University's Theatre School, has been an improviser and comedian for over thirty years. She is an alumna of the iO Theatre, Second City's Mainstage, and a founding member of Chicago's infamous Annoyance Theatre. Susan created and has taught her curriculum at iO and iO West, The Annoyance Theatre, The Second City, and around the globe.
In Chicago Susan has been an instructor for DePaul University, Loyola University, The University of Chicago, and The School at Steppenwolf. Her standup act with her puppet, Jolly, was featured at the HBO/US Comedy Arts Festival in Aspen, and on Comedy Central's Premium Blend and NBC's Late Fridays. Her most impressive bit movie role was as a bad stripper in a halo brace in Let's Go to Prison! Susan is on hiatus from an eleven year run of her critically acclaimed show, Messing With A Friend, but she'll be back with that and other stuff in a comedian way because that's her wheelhouse.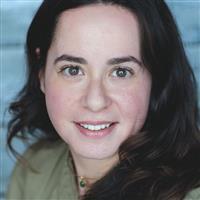 Rachael Mason is a Director, Writer, Teacher schooled in the famed Chicago improv scene. While at The Second City, iO, Annoyance she developed and now teaches her philosophy of not "yes and" but "Yes And Because" where scenes that are rich and sustainable are inevitable and infinite.
She has toured and taught all over the world, headlining festivals with her comedy partner Susan Messing as The Boys. She's worked with theater novices, Masters Degree Candidates at universities, and working professionals both in and outside of the entertainment industry. Candor is her love language. She passionately believes that putting art where there was none before is an act of revolution.
Producers: Mike Gorgone & Bran Peacock
Post-Production Coordination: Mike Gorgone & Bran Peacock
Editor: Mike Gorgone
HA! Logo: Mike Gorgone
Music: "Ben Sound Actionable" and "Ben Sound Sexy" from bensound.com
Sound effects:
Power Up 1 and TOS Communications Static 1 – from trekcore.org
Computer Heart 2 – from freesound.org
Restaurant background and Jazz background – unknown
---