HA! S1E13…
Ed of Passivo VII is Doing…
great, just great
Ed comes from Passivo VII a planet he'd rather you not visit but you'll never find it thanks to its crafty disguise.
This Episode's Guest Improviser
Nick Armstrong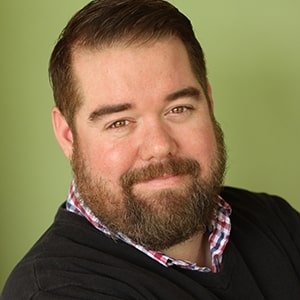 Nick is an Actor, Improvisor and Writer living in Los Angeles, CA. On TV Nick has been on the Emmy-Award winning shows The Office and Grey's Anatomy. He has also made appearances on Jimmy Kimmel Live, New Girl, Stan Against Evil, Young Sheldon, Brooklyn Nine Nine and Parks and Recreation.
Nick has trained at The Groundlings and iO West. He is an alum of The Sunday Company at the Groundlings and has performed at the M.I.'s Westside Comedy Theater with LA's Critically Acclaimed Harold team King Ten. Nick is the former Artistic Director of Mi's Westside Comedy Theater where he has taught and performed and is the Co-Owner of Rise Comedy in Denver. He has also taught improv at iO West, The Groundlings, The Pack Theater and has done workshops all over the world.
Nick is also the Camp Director and Founder of Camp Improv Utopia, a 501(c) (3) Non Profit improv retreat for grown ups. He is also one of the founding members of the The Improv Network. You can follow him on @nickarmstrong on twitter.
Credits
Mike Gorgone as Trellis Gardeen
Bran Peacock as Horatio Zinn
Producers: Mike Gorgone & Bran Peacock
Post-Production Coordination: Mike Gorgone & Bran Peacock
Editor: Mike Gorgone
HA! Logo: Mike Gorgone
Music: "Ben Sound Actionable" and "Ben Sound Sexy" from bensound.com
Sound effects:
Power Up 1 and TOS Communications Static 1 – from trekcore.org
Computer Heart 2 – from freesound.org
Restaurant background and Jazz background – unknown, but if you know, please tell us so we can credit them!
---