Improvcast with Jay and Landon
ImprovCast: Escape Room
This week we've got the hilarious and talented Samantha Chott in studio!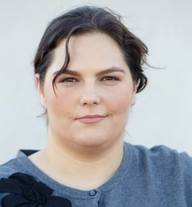 Samantha Chott has been an instructor at Improv Trick for over five years and has performed at The Funny Women Improv Festival, Show 'Em Comedy Festival, LA Sketch Comedy Festival, and New Orleans Comedy Arts Festival. She was a member of Walk of Shame, an award-winning improv and sketch group based at iO West. She is currently a member of TheFeel Good Not Bad Death Laser which performs at many LA theaters. She has trained at Improv Trick, iO West, and Doesage Improv. She was also a member of the iO improv group Red Coat Presidents.
She is originally from Missouri and studied at Central Methodist University. Sam is also on the corporate sales staff at Improv Trick and has co-directed The Stage Match and performs and produces The Sauce. 
Find Improvcast with Jay and Landon on Facebook: https://www.facebook.com/improvcastwithjayandlandon/
Find Improvcast with Jay and Landon on Instagram: https://www.instagram.com/improvcastwithjayandlandon/
---